My poor little hands are so dry. I have a thing for hand washing dishes. I always told myself I will not have a dishwasher at my home. I know one day this choice will kick me in the ass. I much rather spend the extra thousand or so on a better over or stove. I really do enjoy washing dishes by hand! And always with intensely hot water. However, my hands remind me of old tree barks.
I suppose I've been busy. Let's see here. The beginning of last week I did nothing. Yes, absolutely nothing but eat ethnic food and read cookbooks. Then there was Thanksgiving. Which was wonderful. There's also the day I gave blood and almost passed out over ten times. But who's counting? Took me hours to feel better. I think the exuberant amount of wonderful food I ate for dinner at my place of work that night finally got me back on my feet. Literally.
A little recap on my most recent adventures. For Thanksgivng, I baked two tarts. A cranberry tart from Dolce Italiano, which was a huge success with the Americans. Brazilians don't so much like tarts, especially tart tarts. The recipe called for Gina's polenta pastry crust. I did have all the necessary ingredients, but I had her classic sweet pastry dough in the fridge ready to be used. So I used that instead. The recipe also called for 3 cups of cranberries. That is a lot of cranberries and I believe next time I will use less. The cranberries where simply cooked down with light corn syrup and sugar. After the cranberry mixture was cooled, the recipe called for a mixture of cream, flour and egg yolk to be added to the cooled cranberries. I took the liberty to add a few extra items to this mixture before incorporating it with the cranberries. That being: ground ginger, orange zest, vanilla extract, brandy, and a little marscapone.I strained the liquid mixture throught a fine mesh sieve, added it to the cranberries, and pour it into the tart shell. It came out wonderful! I will however, try the polenta dough next time just to see how I like it.

I wanted to bake the best pecan pie ever! I baked a variation of Alfred Portale's Walnut Tart found on his 12 Seasons cookbook. I made many changes to the recipe, but both of us had the same vision. A nutty delicious tart. In the tart dough I used pecans instead of macadamia nuts. I also used pecans in the filling instead of walnuts. This tart was absolutely wonderful. Delicious with ice-cream. However, I do think most Americans, (yes I'm stereotyping) would prefer a variation that is closer to their gooey, overly sweet, "all- American" pecan pie. I intend to try this again very soon. Keeping it clean and conscious of course. I also made Alfred Portale's Pumpkin Creme Brulee from the same book. So yummy! Next time I will try it with all cream instead of the half cream half milk ratio. I like a creamier creme brulee.
My savory bites where kept simple, but oh so tasty. I made brussels sprouts with prosciutto and shallots. My ultimate favorite that I make all winter long. And a butternut squash + potato gratin. The gratin came from Alfred's cookbook as well. It is such a great book. I can't wait to try out more, more, more!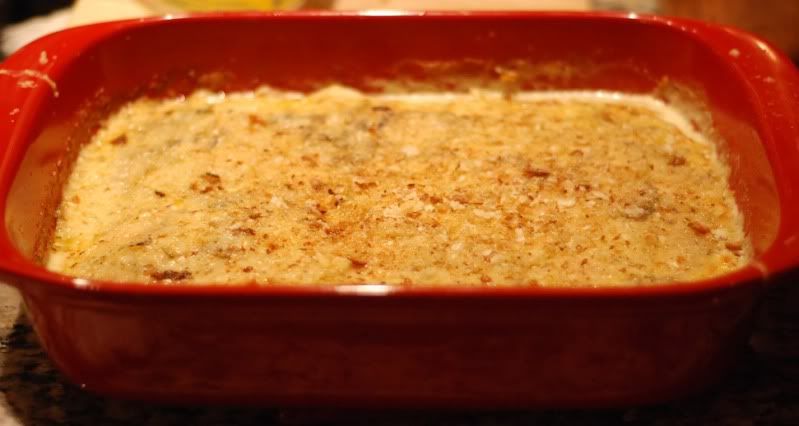 There was no turkey this year! Yep, no turkey. We had a turkey breast but there are no photos of it. We always have turkey on Christmas Eve, and mother didn't feel like making it twice this year. And it was such a small get together, unlike most years, there was no one to impress. We did have Boston Pork Butt! My favorite. So succulent. So flavorful. Always perfect. I will be attempting it myself on Christmas day for Davis' family.

On Sunday I'm having my beautiful friend Jessica, her lovely husband and precious son over for an early dinner, late afternoon Sunday Supper. I wish I had a copy of Ad Hoc by now, but it's backordered on Amazon until December 17th. And I only get books on Amazon. It's completely okay that I don't. I feel like it would help me with my intentions on serving a completely family style supper. But oh well. I'm thinking roast chicken. Big, proud, elegant, delicious and comforting. Everyone loves chicken.Of course, there will be roasted veggies with it. Haven't decided quite yet which ones I will pick. Something seasonal I'm sure. I've done roast chicken before. But it has been a while and last time I did it completely by instinct. This time I have no doubt it will be wonderful since I tend to learn from the best. Julia child and one my newest obsessions: The River Cottage MEAT book! Hugh is a huge fan of roast chicken and has pages explaining all the goodies you should know about the bird. I'm also very excited about serving the River Cafe's "Chocolate Nemesis" cake. I'll be baking them individually and I have some pretty ramekins coming in the mail soon. I also have eighteen squares of  Valrhoma 70% bittersweet chocolate coming in the mail. From somewhere. I hope it makes it okay, and on time. It's very late and now I hear the rain outside yelling sleep. I'm not sure why but it always takes me hours to accomplish these posts. I need to get a hang of this.